---
RGB LED Adhesive Strip Lights
LED strip lights are FUN! Superbright LEDs.com is our primary source. They offer package deals, or à la cart purchases.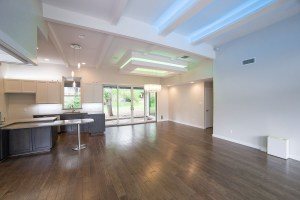 In terms of install prep, here's our preferred method:
Set a standard 120v outlet, controlled by a switch. Add more than one outlets to the same switch if you want.
Do your best to hide the outlets as much as is possible (i.e., putting inside or on top of a cabinet upper).
Then cut, link, & adhere your light strips to their desired place, typically an indirect site (like under a cab, behind a mirror, or in a ceiling rib).
Connect wires from LED strips to a single controller that connects to a transformer.
Now plug your transformer into ...
---